Multi Crew Cooperation (MCC) Course


The higher level of piloting an aircraft
Multi Crew Cooperation (MCC) Course in pilot school "Aviacom Flight Academy" (AFA) includes theory and practical training with a total duration of 9 working days. You can take a multi-crew cooperation (MCC) course separately or as a part of the aircraft type training course.

The price of the right decision. The main MCC course goal is to provide you with as much practical knowledge of how to work in multi-crew staff with other pilots. When flying, sometimes occur situations, where decisions must be taken the same second, both the captain and the second pilot have to understand each other from half a word and cooperate successfully. Sometimes these decisions cost human life. For example, do you know why in 2011th the elite Yaroslavl hockey team "Lokomotiv" has died, when the plane Yak-42 just after takeoff, fell? The study showed that the aircraft airborne, the second pilot suddenly put the brake on, and the commander could not change anything. Perhaps they did not have a good MCC course.
During AFA multi-crew co-operation course you will learn how to make optimal decisions and to cooperate with a colleague in normal and under the most extreme flying conditions.
Work distribution in cockpit. Not for nothing is conceived that large aircraft has to be piloted by two pilots, and a teamwork in a cockpit must go very smoothly. During multi-crew cooperation (MCC) course you will learn the necessary communication and teamwork skills, you will know, what is the correct way to distribute tasks and monitor each other's actions.
Multi-crew co-operation (MCC) training is the way to a higher level of professionalism of piloting the plane and becoming a good plane captain or co-pilot.
I liked the fact, that training was conducted actually by experienced instructors, who not only set out the theory, but also gave some good examples from practice. Exercises and tasks while flying were very useful. After completing the MCC courses in AFA, I feel like a person, which gained a lot of knowledge and feels stronger in difficult situations while flying. I recommend MCC courses organized by "Aviacom Flight Academy" (AFA) to everybody.
Donatas Pavilonis, "Dash" pilot from Lithuania
Multi Crew Cooperation (MCC) course
Entry requirements
100 hours as pilot-in-command of aircrafts;
Valid ME, IR (multi-engine, instrument rating)
Valid CPL (ATPL theory) or ATPL
Course Summary
| | | | |
| --- | --- | --- | --- |
| Training | Facility Used | Working days | Time |
| Theoretical Knowledge | Classroom Briefing | 4 | 25 h |
| Practical Training | FNPT II (ATR-42) | 4 | 16 h |
| Evaluation Session | FNPT II (ATR-42) | 1 | 4 h |
Total duration – 9 working days
MCC theoretical subjects:
Leadership and Authority; Personality, Attitude and Motivation;
Effective and Expressive Communication During Flight;
Crew Coordination Procedures; The Usage of Checklists;
Mutual Supervision, Information and Support; Shortcuts Procedures;
Functioning of Aircraft Systems; The Roles of a Crew Member and Responsibility in Extraordinary Situations.
The Existing Qualification for Flights in Multi Airplanes Using Devices.
Practical training in simulator – with video camera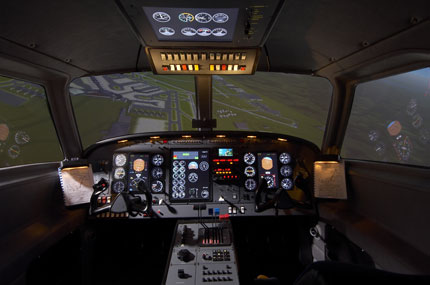 We provide students with 25 hours of theoretical knowledge training (min. JAR: 25 hours) and perform the practical training on a FNPT II MCC Simulator (ATR-42).Our simulator is equipped with a CRM debriefing camera, an ideal tool to analyze and debrief your performance in a multi-crew environment. The use of such a device is strongly recommended for this type of training. You will see yourself as you communicate, perform SOPs, take decisions, etc.
Why is useful for You to choose AFA?
Pocket friendly Lithuanian costs. The price level in Lithuania is up 30 % lower than in West/North European countries. According to "Eurostat" survey 2016, price of hamburger "Big Mac" was 8 Eur in Germany and 4,21 Eur in Lithuania; price of 1 l gasoline – 1,57 Eur in Norway and 1,02 Eur in Lithuania. Because of this unique position in a market, prices for AFA pilot training are lower too. We also don't have any extra payments for brand or location, so You will not overpay for the same service choosing us.
100 % European quality. All training programs in ATO AFA are certified by EASA and meet full range all the requirements for the European standard pilot training. All AFA instructors have the EASA certificates needed, also long year international experience in aviation.
Flexible & innovative AFA training methods allow You to train convenient at home and save money for travel and accommodation. We offer innovative on line training solutions and even ,,Flying Ground School"– the opportunity to have theory classroom sessions at Your home city.